Q: What is the California Hiking Map?
A: The California Hiking Map is a large poster (40 in. wide by 60 in. tall) that attempts to show all the hiking trails in California on one map. More specifically, all the hiking trails that are (theoretically) open to the public and are long enough to be seen on a map of this scale (generally about 2 miles in length or longer). The trails shown generally include hiking trails, Class 1 bike paths, and fire roads closed to vehicles. This map also highlights select long distance trails and historical trails. Insets were made for some areas that have a high volume of trails in close proximity.
I have imagined the California Hiking Map as being a tool for cataloging trails that you have hiked as well as a way to find new hiking opportunities across the state.
---
Q: What does the map look like?
A: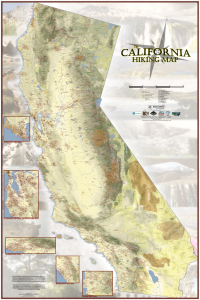 ---
Q: Dashing! Any more detail?
A: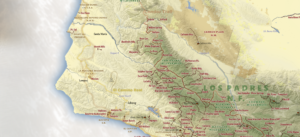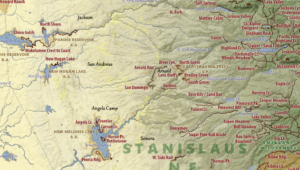 ---
Q: How was this map made?
A: This map was created with data obtained from the U.S. Forest Service, the National Park Service, the U.S. Geological Survey, the U.S. Fish and Wildlife Service, the California Protected Areas Database (CPAD, December 2015 – www.calands.org), the Counties of Nevada, San Mateo, Santa Clara, San Diego, Los Angeles, and Marin, and hundreds of hours of original research and digitization. This map was designed in QGIS (QGIS Development Team, 2015. QGIS Geographic Information System. Open Source Geospatial Foundation Project http://qgis.osgeo.org).
---
Q: What's the backstory?
A: There's a page for that.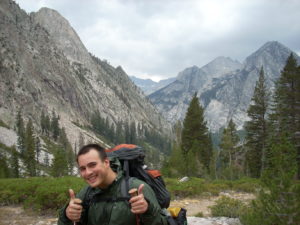 ---
Q: Can I use this map for navigation?
A: Because of this map's unique zoomed-out perspective, the California Hiking Map shouldn't be used for navigational purposes. Please consult your favorite local trail guides, topo maps, and online resources for additional trail information.
---
Q: Are all these trails open?
A: Although great effort went into making the map as accurate as possible, trails shown may be closed (temporarily or permanently), hard to navigate, open to vehicles, dangerous, on private property, or non-existent due to floods, erosion, wildfires, management decisions, or natural overgrowth. Please verify trail conditions with the land manager before exploring.
---
Q: Is the map shipped rolled or folded?
A: Rolled!
---
Q: I see that you are missing ______________.
A: Feel free to use your favorite marker to fill it in! Do let me know about it, as I'm maintaining a list of improvements for future revisions.
---
Q: Will the map be available digitally?
A: A georeferenced, digital version of the California Hiking Map is now on sale in the Avenza Maps store!
https://www.avenzamaps.com/maps/696090/the-california-hiking-map/
---
Q: Why is the poster so big?
A: Because California is big! This size was required to show all the trails and trail labels effectively. It could be cut into 20 x 30 quadrants for easier framing / mounting.
---
Q: How can I frame it?
A: Check this out!
http://www.apartmenttherapy.com/10-diy-projects-to-make-your-own-wall-frame-217233
---
Q: Have you hiked them all?
A: Not even close! But I'm slowly working on it. I'll post a picture of my map marked up with the trails I have done soon.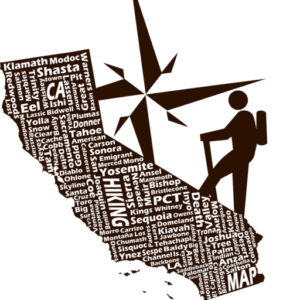 Q: Favorite trails?
A: Hard to say, most are great for one reason or another! I'm particularly fond of San Jacinto via the tram (first kiss with the Mrs.!), the Rae Lakes Loop, Thomes Gorge, anywhere in the Trinities, and Mt. Eddy.