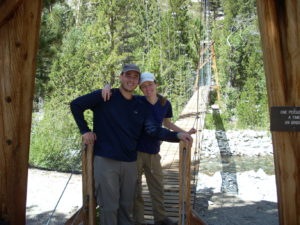 My wife and I love to hike. While living in the San Bernardino National Forest, we enjoyed tracing our tracks and sticking pins on a forest map that hung on our wall. When we moved to Chico, we decided that we needed new maps to decorate. We didn't have room on our wall for every National Forest, National Park, State Park, County Park, local park, etc. map available, so I looked for a trail map that showed all the trails in California on one piece of paper.
There wasn't one.
So I decided to make one!

Flash forward about two years and after hundreds of hours of research, digitizing, and labeling, the map was close to completion. The initial printing of the map was funded on Kickstarter with the help and input of 431 awesome backers.

Interviews with Inside Hook, Backpackers.com, North State Public Radio, KRCR News Channel 7, and the Chico News and Review share a little more information about the California Hiking Map project. The California Hiking Map was also featured on Backpacker Magazine's Play List for May 2016 and Gear Junkie's Emerging Gear List for July 2016. Thanks to Yubanet, LAist, Curbed LA, Curbed SF, the Matador Network, Men's Journal, SF Gate, and Lonely Planet for additional coverage!
Special thanks to friends, family, BootCampSF, The Emerald Cove Outdoor Science Institute, Chico Oroville Outdoor Adventures, Pacific Green Coffee Roasters, the California Mission Walkers, Xtreme Hiking, and the Kickstarter Backers!
In March of 2017, another Kickstarter was launched to provide a digital copy of the map (a georeferenced PDF) to folks that want to upload into their favorite map viewing software or app!